In 2011, Bill Muirhead and Charles Fontannaz, two friends and work colleagues created VFM Conseil SA.
Their goal was to use their complementary experience and skill-sets to create a Business Consulting firm
able to bring enterprising solutions adapted to the needs of regional, national and international entrepreneurs.
In March 2020, right at the start of the COVID crisis, Fiduciaire Longchamp Sàrl based at Montagny-près-Yverdon was acquired by the group. The goal of this acquisition was to develop the activities of the group in the North Vaudois/Neuchâtel region, by exploiting the synergies between the two accounting firms.
We help you to concentrate on what is important for the development of your business
To make a great product, deliver a great service and build a successful long-term business, you need to have the right vision, the right ingredients and the right people.
To succeed you need to be passionate and patient (not always..!).
We want to really understand our clients' business and needs.
We challenge existing ideas to bring innovative solutions for our clients.
We like to work with entrepreneurs who are change-orientated, who are prepared to challenge the norm, to help them make transformative decisions to deliver sustainable success.
We are entrepreneurs, like our clients, who strive to be innovators, never satisfied with the status quo.
We are passionate about what we do and building long-term relationships with our clients.
We have a commitment to the highest quality, professionalism and ethical standards in everything we do.
We are not afraid to say what we think. Tell it like it is in a direct and straight-forward manner.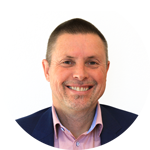 Bill has an Electrical Engineering Degree and is a UK Chartered Accountant.
A team-builder who has worked for over 35 years to help in the development and the improvement of both small
companies and major international groups, particularly with companies in the watchmaking and medtech sectors.
Previously he has been CEO of Valtronic Technologies, CFO of Audemars Piguet and CFO of Breguet. Prior to that he worked for many years with Coopers & Lybrand as a Director in their audit, corporate finance and corporate restructuring departments in the UK, New Zealand and Paris.
A co-founder of a diagnostics start-up from the EPFL, he is also a Board member of a number of different companies.
NICKY MUIRHEAD
SENIOR ACCOUNTANT
Nicky is a UK Chartered Accountant.
She brings an audit approach to finding solutions to operational problems.
Previously she has worked as an accountant at Valtronic, in the HR department of Medtronic and as an operations manager at Eurodisney. Nicky trained at Touche Ross (UK) where she held various functions in their audit and small business departments.
LET US HELP YOU SUPPORT YOUR BUSINESS GROWTH